Home Upgrades That Add Value

Enjoy Your Home More While Increasing Market Value
As a homeowner planning to move within the next few years, you may be wondering about the best home upgrades that not only increase your property's value but also provide enjoyment for everyone in the house. In this article, we will explore innovative and trending ideas for home improvements that can boost your home's value while allowing you to appreciate the upgrades until it's time to sell.
Kitchen Remodeling: The Heart of Your Home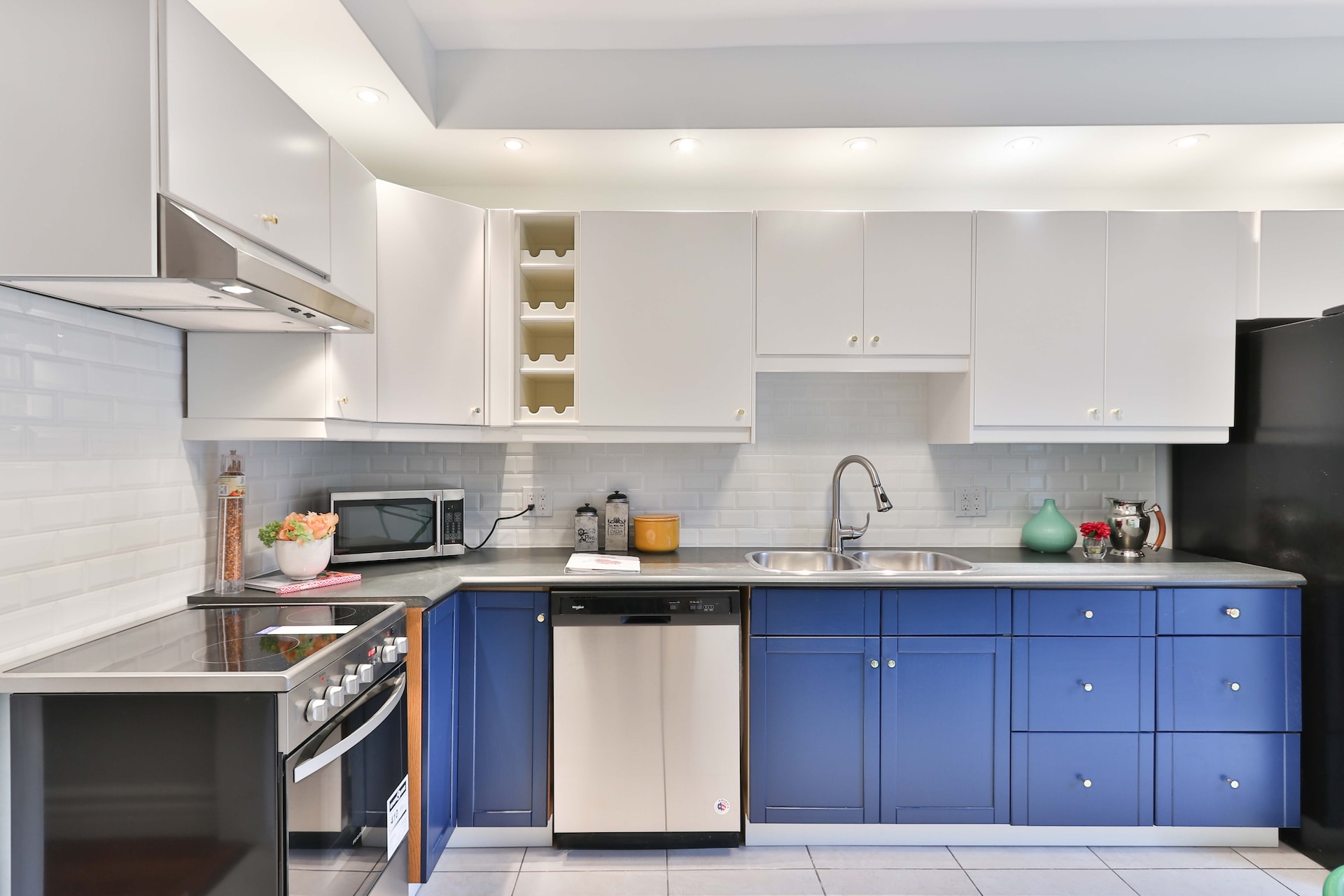 Photo by Sidekix Media on Unsplash
Timeless Designs and Bold Choices
The kitchen is often considered the heart of a home, where everyone will gather to cook, dine, and bond. As such, it's essential to strike a balance between timeless features and incorporating your unique style with colors, patterns, and textures. In recent years, trends like natural stone countertops, dusty greens and blues, and soft hues like terracotta, natural browns, and creamy whites have gained popularity. Designers are also experimenting with mixed metals, high-contrast color palettes, double islands, and overstated cabinet hardware.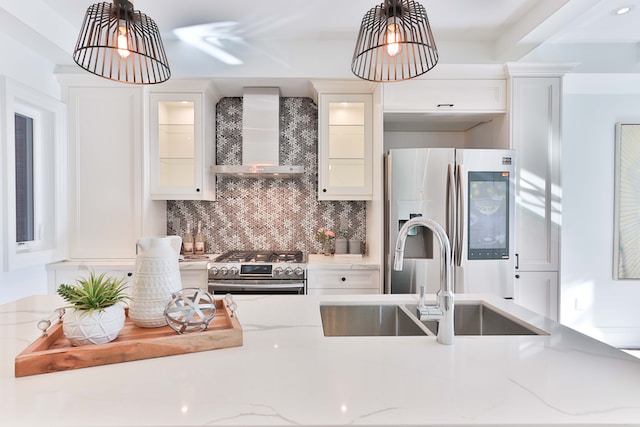 Photo by Sidekix Media on Unsplash
Backsplash and Artisan Details
Switching up your kitchen's backsplash with vibrant tiles, adding a fresh coat of paint to your island, or incorporating handmade artisan details can instantly refresh your space. Remember, it's crucial to focus on what your kitchen needs rather than blindly following trends. An intelligently designed kitchen that meets your specific requirements will never go out of style.
A well-executed kitchen remodel can significantly enhance your property's value [1]. Focus on key elements such as updating countertops, cabinets, and appliances to create a modern and functional kitchen. Incorporating the latest kitchen trends of 2023, including mixed metals, colorful cabinetry, and unique backsplash designs, ensures your upgrade is both stylish and appealing to potential buyers [2].
Bathroom and Kitchen Updates: High Impact and High ROI
Bathroom and kitchen updates have long been favorite renovation projects due to their high return on investment and significant impact on a home's look and function. Minor kitchen remodels, for instance, rank third in terms of renovation ROI. As more people continue to work from home post-pandemic, transforming bathrooms into spa-like retreats and kitchens into social spaces has become increasingly popular.
Investing in high-quality materials, such as marble or quartz countertops, and efficient fixtures maximizes the impact of your bathroom remodel [1]. Luxurious elements like rainfall showerheads, freestanding tubs, and smart bathroom technology create a spa-like atmosphere and increase the desirability of your home [2].
Cosmetic Updates and Necessary Repairs
Spending less money and time, addressing cosmetic updates and necessary repairs will offer an affordable way to improve their property's aesthetic and functionality. These projects include painting, lighting improvements, switch and outlet repairs, and maintenance tasks that may have been delayed.
Expanding Outdoor Space
Maximizing outdoor spaces for more functional and versatile use is a trend that continues to gain momentum. Popular choices include adding decks, patios, porches, fire pits, outdoor kitchens, and hot tubs, as well as creating dedicated spaces such as creative studios, home offices, or wellness areas.
Enhancing your home's exterior increases its curb appeal and provides additional living space and enjoyment. Outdoor remodeling projects such as landscaping, patios, decks, and privacy fences create inviting outdoor spaces that potential buyers find attractive [3][5]. According to HGTV, outdoor projects like adding gutters and enhancing the landscaping can yield a high return on investment [4].
Energy-Efficient Upgrades
In today's eco-conscious world, energy-efficient features are highly sought after by homebuyers. Upgrading your home with energy-efficient appliances, LED lighting, and proper insulation significantly increases its value [3]. These improvements not only attract potential buyers but also help reduce utility costs and contribute to a sustainable lifestyle.
Smart Home Technology
Incorporating smart home technology can add convenience, efficiency, and value to your home. Installing features such as automated lighting, smart thermostats, home security systems, and voice-activated assistants makes your home more attractive and marketable [3].
Garage and Driveway Upgrades
Don't overlook the importance of garage and driveway improvements when aiming to enhance your home's value. A well-maintained and functional garage can be a significant selling point for potential buyers. Organizing the space, adding storage solutions, and ensuring proper lighting are recommended [3]. Upgrading the driveway, such as resurfacing it, adding decorative elements, or incorporating eco-friendly materials like permeable pavers, improves the functionality and aesthetics of your property [4].
Privacy Fences: Create a Secluded Oasis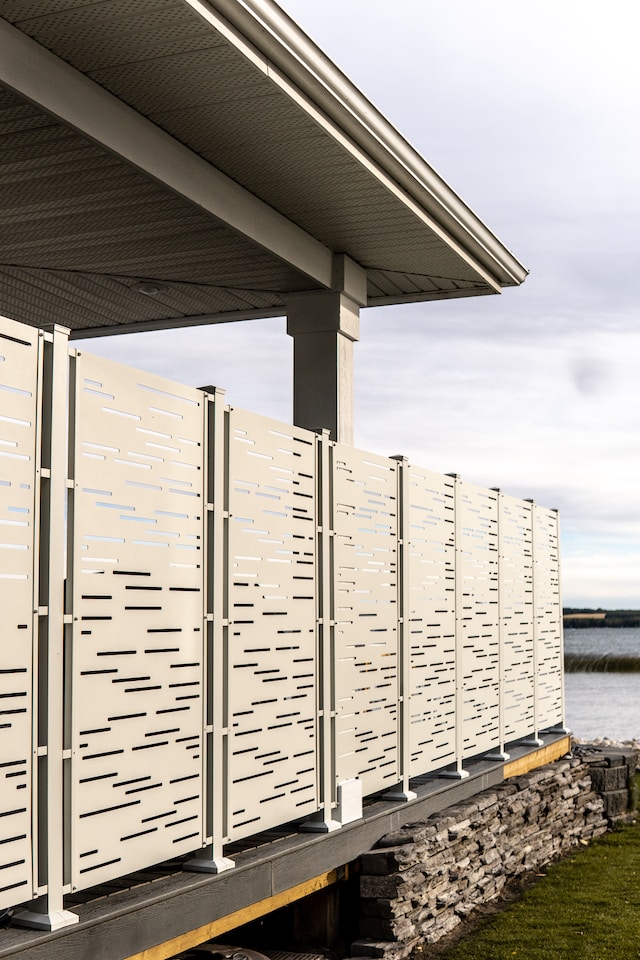 Privacy Screen. Photo by HideAway Inc. on Unsplash
Benefits and Considerations
Privacy fences serve the dual purpose of defining property boundaries and blocking views into your yard, creating a sense of sanctuary and seclusion. However, it's essential to consider the potential impact on wildlife and the environment before installing a privacy fence. For instance, fences should be at least two inches off the ground to allow critters to move freely between properties.
Height and Materials
A six-foot-tall fence should be sufficient to block most ground-level views. If additional height is needed, consider adding lattice on top of the fence for extra privacy with minimal visual impact. Material choices for privacy fences include solid wood for complete opacity or more open designs that incorporate gaps to offer breathability while still obstructing clear views.
Gutter Systems: Protect Your Home's Exterior
A functioning gutter system is crucial for protecting your home's exterior, siding, windows, doors, and foundation from water damage. Rainwater collection systems, such as rain chains and filtration systems, can also help recycle and reuse water for landscaping purposes. When installing gutters, ensure that the job is done correctly, and the appropriate size is chosen to prevent clogging and permanent water damage.
Retaining Walls and Landscaping: Enhance Your Outdoor Space
Clever retaining wall ideas and landscaping designs can help create a private and serene outdoor environment. Well-designed retaining walls can control erosion, create usable outdoor space, and add visual interest to your yard. Privacy landscaping, including the use of trees and hedges, can also provide an attractive and eco-friendly alternative to traditional fencing.
Sustainable Landscaping: A Greener Choice
Incorporating sustainable landscaping practices in your yard can significantly increase your property's value while benefiting the environment. Options for sustainable landscaping include xeriscaping (using drought-tolerant plants), native plant gardens, and permeable paving. These eco-friendly solutions not only conserve water and support local ecosystems but also require less maintenance, making them an attractive choice for homeowners.
Investing in Home Upgrades That Add Value
Investing in home upgrades that add value is a smart move for homeowners looking to enhance their living spaces and boost their property's worth. From kitchen and bathroom renovations to energy-efficient solutions and sustainable landscaping, there are numerous ways to transform your home into a dream haven. Carefully consider your budget, priorities, and long-term goals when planning home improvement projects to ensure maximum impact and return on investment.
By considering these home upgrades, you can enjoy the benefits of an improved living space while also increasing the value of your property. However, it's important to approach these projects with careful planning and budgeting to ensure a successful outcome.
Remember, when it comes to home upgrades, it's essential to hire experienced professionals and use high-quality materials to achieve the best results. Before starting any renovation project, conduct thorough research, gather multiple quotes, and consult with reputable contractors to make informed decisions that align with your goals and budget.
Staying in Your Home While Planning to Move – Eventually
In conclusion, as a homeowner looking to move in the near future, focusing on key areas such as the kitchen, bathroom, outdoor spaces, energy efficiency, smart home technology, and garage and driveway improvements can significantly increase your home's value. By incorporating the latest trends and advice from trusted sources, you can create a home that not only enhances your daily living but also attracts potential buyers when the time comes to sell.
Call when you're ready to take the next step toward buying or selling a home.
Citations:
[1] "These 7 Home Renovation Projects Add Value." MN Kitchens. Retrieved from https://mnkitchens.net/blog-1/f/these-7-home-renovation-projects-add-value
[2] "Kitchen Trends 2023." Good Housekeeping. Retrieved from https://www.goodhousekeeping.com/home/decorating-ideas/g41959147/kitchen-trends-2023/
[3] "Home Improvement Trends to Watch." US News Real Estate. Retrieved from https://realestate.usnews.com/real-estate/articles/home-improvement-trends-to-watch
[4] "Maximum Value Home Exterior Projects: Gutters." HGTV. Retrieved from https://www.hgtv.com/outdoors/outdoor-remodel/maximum-value-home-exterior-projects-gutters
[5] "10 Privacy Fence Ideas to Get the Best of Your Space." Architectural Digest. Retrieved from https://www.architecturaldigest.com/gallery/privacy-fence-ideas